Australia Post rebrands and once again chooses synrg's Brand Toolbox Brand Asset Management (BAM) solution to align brand values and strategy across all communications.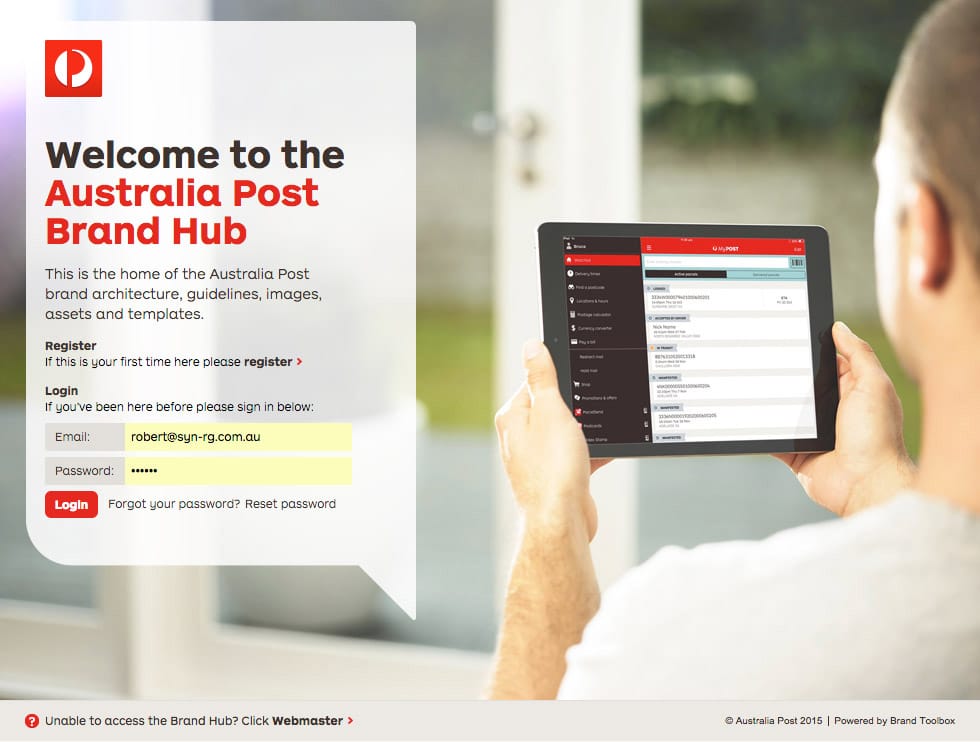 Spanning a successful ten year partnership, this is the third version of the Australia Post Brand Hub (online brand guidelines). From the first incarnation in 2005, when the site was a basic HTML website, through to the current content-managed solution, Australia Post relies on the security, speed and "brand tools" inherent in the solution.
Working closely with Interbrand Australia, who designed the new brand livery, synrg was commissioned to redevelop and reskin the brand hub with the new brand and graphic palette. A series of "Usability Workshops" helped define improved wayfinding, document retrieval and searchability, as well as the customisations needed to cope with the growing community and asset base.
synrg improved the registration process, making it more intuitive for both new applicants and administrators. Once approved, a member can have access to all or select sections of the site, depending on their membership type.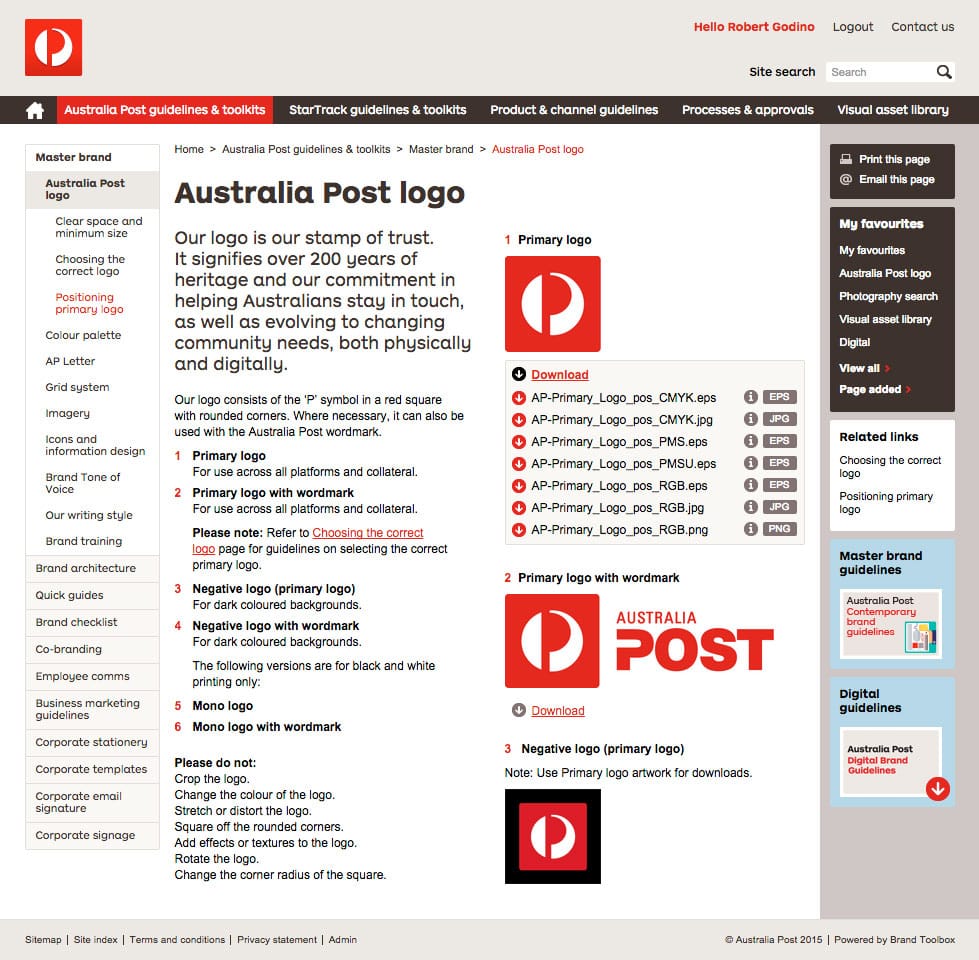 The system allows users to manage their image and document libraries, and enables them to browse 1000's of images via a powerful imagery search engine.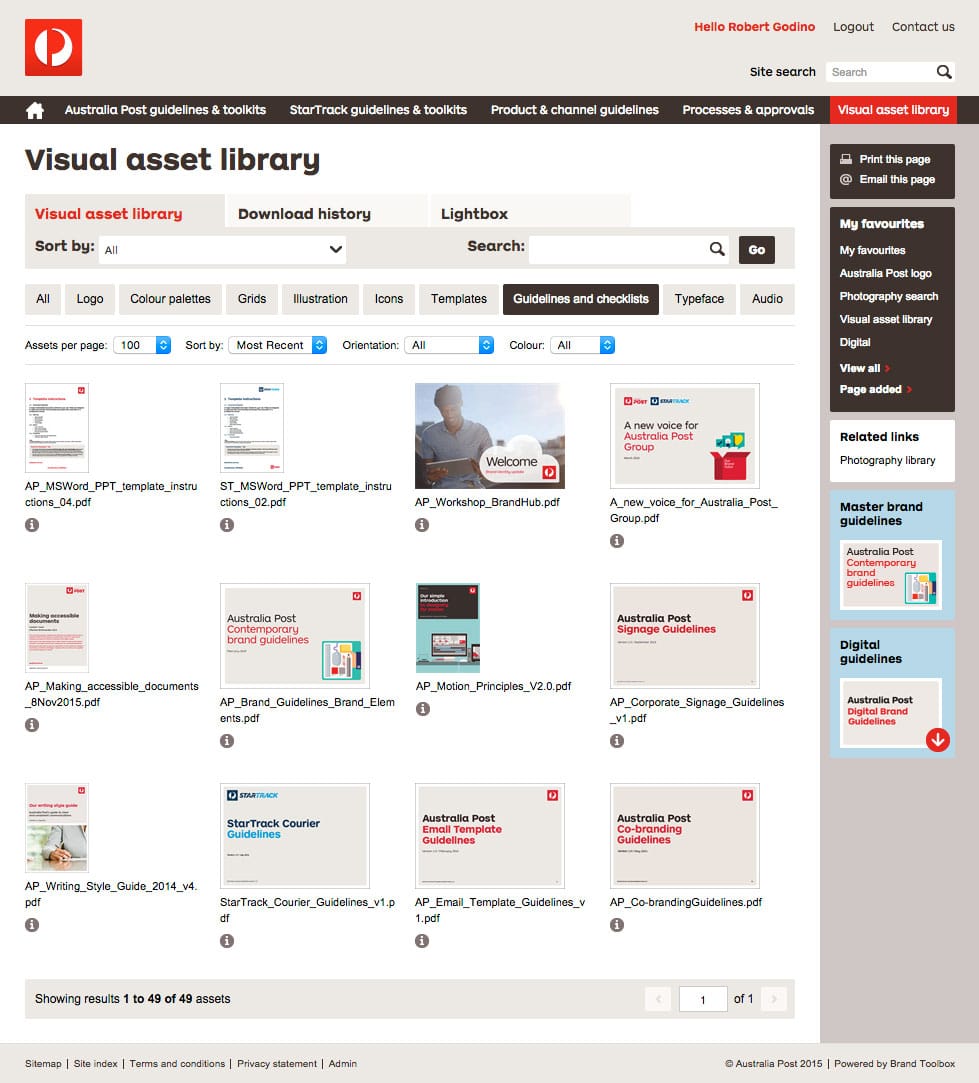 Approved members can download assets and photos, or save them to lightboxes for later use. All downloaded items are recorded against each member's personal download history, so users can quickly recall them. Version control also allows users to be informed when previously downloaded items have been updated or deleted.
All members can be notified by email every time a new logo or guideline section is added, providing up-to-date 'policing' of the brand. And with instant access to the profiles of all members using the site, tracking the supplier database is simple. Full behavioural tracking also allows the client to manage content more economically.
Due to the confidential nature of the information, we cannot display the entire site. However a personal demonstration can be arranged. Contact us to organise a demo.
28 February 2013
Just wanted to say what a fabulous job you've done with the new improvements on the brand hub - the "hovering explanation" is a great value add - love it!
Bree Berg
National Manager, Brand and Reputation, Strategy & Marketing, Australia Post